Shannon and The Clams
It wouldn't be wrong to say that Shannon and the Clams was formed by accident. Just outside the invisible borders of Oakland's warehouse music scene, Shannon Shaw was absorbed in studying illustration at California College of the Arts, a 100-year-old institution that draws freaks into the city from across the country. For many, the school serves as a gateway into the sprawling music underground that agitates beneath the Bay Area, as a hub for fliers for illegal parties in backyards, basements, and overpasses.
During a bout of depression, Shannon took up a neglected bass guitar that had been a gift from an ex-boyfriend years earlier and played it for the first time, writing in a raw and untrained way. The urge to perform these songs soon took her to open mic nights around the East Bay.
"It was the perfect outlet," Shannon says. "I never thought I'd be someone who played music, but one day I picked up this bass and started writing songs. I became addicted to it. It became my focus."
Word got around that she was performing and the instigators of art school parties, always hungry for new talent, convinced Shannon to throw a band together and play. It worked, and it pushed her to aim higher, but the band was only meant to be temporary. Now, ten years later, her path has revealed itself and Shannon and the Clams are releasing their fifth album, Onion, this time collaborating with producer Dan Auerbach and his label Easy Eye Sound.
Over the last decade, Shannon and her chief collaborator, guitarist Cody Blanchard, have released four albums of 60s-inspired pop on indie labels, toured tirelessly and have gradually solidified a lineup of devoted Bay Area musicians, Nate Mahan on drums and Will Sprott on keyboards. Nate has played keyboard, guitar and drums in various Bay Area bands for a decade, and Will has served as front man and songwriter for his band the Mumlers and more recently his solo project, Will Sprott, releasing records on his own Hairdo Records. In this current iteration, Shannon and the Clams have developed notoriety for lively and genuine stage performances and a zealous following that craves their particular authenticity and innovation on classic sounds. Their last record, Gone by the Dawn, arrived in fall 2015 and took them to Coachella and Hardly Strictly Bluegrass in the year following. On the album you can hear the band progressing from straight 60s-inspired rock and exploring their taste for psychedelic, dramatic throwback pop.
Shannon and the Clams had already begun writing for the Onion sessions in fall 2016, when their world was rattled by the Oakland Ghost Ship warehouse fire in early December. A total perspective shift followed and the writing changed direction. In the wake of the fire, the band looked backward at their origins in the Oakland underground and the importance of that world to their genesis. From where they now stood, they could recognize the community as a delicate incubator for fringe art, an unstable but nurturing place for performers to practice and cross- pollinate where there otherwise is no platform.
In January 2017, the band flew together to Nashville and over the course of ten days, fleshed out their songs with Auerbach at his Easy Eye Studio, where he helped refine and embellish the songs and steer the album. "He works in this very layered style," Cody says. "He has all these instruments in the studio mic'd up at all times, ready to go. You can go back and add all these layers of instruments really fast and then cut stuff away in the mix."
With Shannon and Cody focused on pinning down the meat of the songs and tracking vocals, multi-instrumentalists Nate and Will were free to compose arrangement and accompaniment ideas and background vocals. They explored the studio's wealth of instruments and tapped into their own years of songwriting experience to ornament and color the tracks and lend a refined ear in the control room.
The song "Backstreets" is Cody's response to the Ghost Ship fire, and particularly the issues of artist housing and being forced to make your own way in a society that is not arranged to accommodate artists. Album closer "Don't Close Your Eyes" is Shannon's response, an inspirational ballad urging those suffering through loss to not give up in the midst of tragedy. The theme of origin and introspection had already been at play on the album before the shift of focus to the warehouse fire in December, and other songs on the record deal heavily with self- searching and looking backward, but on a more personal level; discovering our own individual origins and the path that has led us sometimes haphazardly to where we find ourselves, from childhood to now.
"I had this epiphany that was likening an onion to being human and how you're nothing without layers of experience," Shannon says. "Each time you have an experience it creates another layer in the onion. And that layer sticks with you forever and other layers grow on top of it, sometimes unevenly. When you get introspective and try to unravel yourself, you're digging through the layers. Every time you think you've figured something out there's just another layer beneath it. And I wondered, what happens when you get to the bottom, the center, the beginning of everything when there are no layers? Is there anything left at all? It's a bottomless endless chase of getting to know yourself. Each song on this album is about problem solving and having realizations about yourself."
"People say that artists are blessed with talent and live enchanted lives," says Cody. "In truth, being an artist is excruciating and there is no clear path for you. It is a struggle to find your purpose and support yourself while scratching that endless itch inside your head. A lot of people don't make it, lose their minds, more or less, to depression, anxiety, resentment, drugs, as a side effect of that struggle."
"It's Gonna Go Away," is the album's biggest stylistic departure, mixing elements of soul, disco, R&B, psychedelia, the Zombies, chanting and baroque. It was written by Shannon and muses on the notion that all in life is temporary, the good and the bad, and finding comfort in that. Album opener "The Boy" is quintessential Clams. Written by Cody, it is a heavily 60s rock inspired track with a mournful hook that speaks about the way childhood experiences stick with and shape you, for better or worse, and hang around forever like baggage until you choose to lose them.
"I hope my lyrics can be an entry point for people into introspection and self-analysis," says Cody. "There's a stigma around it and there's so much distraction available, but you've got to sort through the chaos of your personality. I hope people hear what I'm singing and give themselves permission to look around inside their own heads."
"It's okay for people to interpret the songs," Shannon says. "You can put your own story into it if that helps you heal. I just want people to feel something, whatever it is. When I'm performing I make a point to always go back to the place emotionally of when I wrote the song and tap back into it. I try to stay really connected to the original feeling and I hope people can see that. I feel like people appreciate our genuineness. That's the thread we've been able to keep this whole time and we'll always stay true to that.
Shannon & the Clams - The Boy [Official Video]
SHANNON & THE CLAMS - "Ozma" (Live at Desert Daze 2018 in Moreno Valley, CA) #JAMINTHEVAN
Shannon and the Clams Documentary | AMERICAN MUSIC Ep: 6
Shannon and the Clams - "Rip Van Winkle" [OFFICIAL VIDEO]
Jacuzzi Boys
The year, 2007. The Boys, Jacuzzi. Hatched inside a vulture's nest, Jacuzzi Boys emerged from deep within the Florida wilds, three radioactive chicks cawing for their piece of electric rock pie.
With No Seasons (Florida's Dying) they freaked their way through the swamps, a psycho stomp of a record, all hallucinations and hand claps. Glazin' (Hardly Art) found a more polished sound. They installed AC units inside their mobile homes, found a way to turn neon into ice cubes. Now, with their third full-length, the self-titled Jacuzzi Boys, they're going grand, building limestone monuments to those that boogied before them, while writing hypnotic ear worms by the light of a cigarette. Gone is the swamp-thing snarl. In it's place, the indestructible cool of the casino slot-jockey with nothing to lose.
Recorded at Key Club Recording Co. in Benton Harbor, Michigan—same as 2011's Glazin'—the new record takes full advantage of expert engineers Bill Skibbe and Jessica Ruffins' sonic sandlot, with Kramer in charge of mastering. The end result? A smashing set of tunes as dazzling as a sparkler.
It's like that movie you once saw. The one with the boy and the girl and the plastic lounger on the beach. "Be My Prism" was the invitation. "Black Gloves" and "Double Vision" the promise. "Dust" was the rising tide. "Rubble," the dirty uncle. "Hotline" was the lightning storm, and "Ultraglide" was the ending, the part where he drove her home with the windows down.
You remember you liked it.
It stayed with you while you swam alone in your pool that night.
Jacuzzi Boys - "Double Vision" [OFFICIAL VIDEO]
Jacuzzi Boys - "Be My Prism" [OFFICIAL VIDEO]
Jacuzzi Boys - Sun (Official Music Video)
Scott Yoder
Drawing on his childhood fascination with the otherworldly & theatrical Scott Yoder elevates his sensitive song craft into fantastical heights with his second LP "A Fool Aloof." An introvert at heart, Scott challenges his own singer/songwriter nature with a dynamic & engaging live show that has left audiences awestruck on his many tours promoting the single & album track "Ways Of Love." Now with the full set of songs outlining his morphing identity out on Annibale & Burger Records Scott returns to the stage backed by a band of misfits romantics to seduce you with his mystic charm.
"A punch-drunk ode to cosmic love; one that you'll want to leave repeating on your turntable." - KEXP
"Strong and personable, casting a spell over you that continues to buzz about your head." - Grey Estates
"loud, sexy, witchy, visceral, and rocking as shit." - Respect My Region
"The guitar is powerful and Yoder's voice is pure. Scott Yoder continues to be one of my favorite alt-rock acts." - Elevator Magazine
"No matter what the sound the songwriting remains the strongest part of Scott's work" - Clunk Magazine
Scott Yoder - Sugar On Your Lips (Official Video)
Scott Yoder - How's It Gonna End (Official Video)
Scott Yoder - Band in Seattle - Full Episode
Scott Yoder - You'll Never Know (Live in Studio)
Las Nubes
Las Nubes is a three-piece Miami band that blends the old and the new. Its music bleeds low-fi/alternative heartbreak sounds nostalgic of the '90s while staying modern with heavy riffs and pop harmonies, sometimes in Spanish.
Ale Campos started the band over four years ago as a solo project under the name Smvt. Evolving from hard punk to a more familiar and softer sound, the band slowly transformed into Las Nubes, now with the addition of Emile Milgrim (drums) and Carolina "Nina" Souto (bass). Featured on New Times' list of music acts to watch in 2019, the trio has since earned local fans' attention with the release of two singles and music videos.
Now the group is ready to drop a new album. SMVT, an homage to the original band's name, is set to release June 14 on Sweat Records Records. Las Nubes will host an album-release show at the Allapattah venue the Bridge Thursday, June 13, the day before the album becomes available everywhere, giving fans the first chance to hear SMVT and buy the record or tape.
Campos, who dubbed herself the "punk rock Taylor Swift" in an interview with New Times last year, created Smvt as a passion project — a means to release and express her emotions through music. Campos has been a familiar face in the music scene for a long time, having worked at Sweat Records for over five years and playing locally in bands such as Testokra and Wastelands.
"It was four years ago... I started playing as Smvt and I just wanted it to be my band. I've been in other bands before and it's like being in a relationship and it's really hard," she shares.
But after gaining the confidence to release her own music with support from friends, performing on her own as Smvt, often losing her voice, and even opening for local noise artist Rat Bastard on his tour while finding a new drummer to play with every night, Campos was ready to take Smvt to the next level: finding bandmates. Now Campos, alongside Souto and Milgrim, who is a Sweat Records partner and founder of record label Other Electricities, together form Las Nubes. The name translates to "the clouds" in English.
With a DIY approach, the trio has released two catchy singles with music videos in the past six months, both of which appear on the upcoming nine-track album. With a music video filmed at Miami's own Santa's Enchanted Forest at Tropical Park, the first single, "Hell Bag," was recently featured in Iggy Pop's radio show on BBC Radio 6, a feat the band is quite proud of.
The single "QSW" features lyrics completely in Spanish and has been featured in Brooklyn Vegan, Remezcla, on Univision, and more. Born in Miami with Argentinean and Cuban roots, Campos' first language is Spanish, allowing her to write lyrics easily in the language and translate Milgrim's lyrics from English, which she did for "QSW."
Some songs are simply catchier in Spanish, the bandmates agree, but there's another reason for Las Nubes' multilingual efforts. Accepting their own diverse cultures is part of the drive to write songs in different languages. Souto is Brazilian, so the band is working on a song in Portuguese.
"Growing up down here, I felt like there were a lot of people that were almost ashamed of where they're from and would be embarrassed to speak Spanish. I'd be like, 'What the fuck is wrong with you, that's so fucking cool. You know another language and you grew up in this different culture,'" says Milgrim.
And there's another emotional element too. "[The songs] are mostly about relationships and being fucked up from them," Campos shares. "I was in a really weird relationship when I wrote most of those songs. So a lot of them were me being in denial, but then writing these about how I felt, and being like, If I write these songs, I'll feel better about it and things will change, but it didn't end up working out that way. But these songs came out and I guess that's a good thing."
You can hear that influence in the songs. They gush heartbreak in the melodies and riffs, and the harmonies add even more layers. "I just want people to hear it and I want it to be stuck in their heads... A lot of bands that I take inspiration from, as far as lyrics go, is because when I hear it I feel something," says Campos.
Many of SMVT's tracks were originally recorded and released as DIY GarageBand recordings on Bandcamp by Campos under the moniker Smvt. Years later, Las Nubes took the songs to Fuzz Baby Records in Broward, where the record took a year and a half to record and finish. Original bassist Johnny Love had to back out during recording, so the group added Souto permanently to play on bass and join in the harmonies.
Milgrim's partner Mariana Mendoza provided the image for the album cover and designed its duo-tone blue tint. "She was reminding me that she had all of these cool vintage photos of her mom in Nicaragua in the '60s, so she suggested we look through them and find something," Milgrim shares. The centerfold art will also feature photographs from the same collection.
Because Milgrim and Campos both work at Sweat Records, they have been immersed in the inner workings of the album release through the store's record label, Sweat Records Records. "We're so involved in the process because we help do stuff for the label by default. It's a good thing because there's a little bit more oversight in what we're doing," says Milgrim.
SMVT is available for preorder as cream-colored vinyl through Sweat Records. It can also be purchased at the album-release party, and streamed online or found in-store at Sweat Records after its release June 14. The party at the Bridge will have vegan food to munch on, Las Nubes-inspired flash tattoos, merch, and, the band promises, some surprises. Plus, the event will be all-ages, something Campos believes is important for the scene.
"I just want younger kids to be able to come and enjoy the show," she says, "because when I was 15, 16 in high school, that's when I started going to shows."
//courtesy of The Miami New Times
Las Nubes- Hell Bag (First Single)
The Sh-Booms
Since their 2011 inception, The Sh-Booms have become kind of a thing in their native scene and beyond. Besides perennial winners of "Best Soul Act" in the Orlando Weekly's big annual 'Best of Orlando' issue, they've been tapped to share the stage with national names like The Roots, Of Montreal, Talib Kweli, KRS-One, Jacuzzi Boys, Budos Band, Big Freedia, Lee Fields, St. Paul & the Broken Bones and The B-52's (whom the band toured with in 2017 and 2018). They've been featured on NPR, their music has made it on TV (CW's Supergirl) and they've played Austin City Limits, Okeechobee Music Festival, SunFest and Gasparilla Music Festivals.
When powerhouse singer Brenda Radney joined The Sh-Booms in 2015, the band's course was locked, their date with destiny set. She was signed to Justin Timberlake's Tennman label, even appearing on his album, The 20/20 Experience, Pt. 2. But after clicking with band leader Al Ruiz while recording separately in the same studio, she jumped aboard The Sh-Booms to turn this train into a true locomotive. After the release of their 2016 Usage Fee EP and a countless number of shows in the Southeast, the 10 songs along The Blurred Odyssey were produced by Grammy-nominated Alan Armitage (AA Villain) over an 18-month span that cemented the band as a tight-knit unit. That chemistry achieved is where The Sh-Booms are now, and The Blurred Odyssey is their testament.
There's this dynamic that churns hard in The Blurred Odyssey. The music pumps with the hot, red blood of life irrepressible. But there's a cloud on the horizon, the doomed sense of life's finitude, that fueled these songs. Rather than dead-end nihilism, though, it's resulted in the kind of urgent, creative friction that Hunter S. Thompson could get down with. In making this album, The Sh-Booms have dug through the blur of life, swam through a sea of booze, to find love and truth in the shadow of the void.
Although a soul band through and through, the grease and bite they've been picking up in the years leading up to this big step out have been forged in the bad company of punk and garage bands. From that underground now rises a new hurricane of big orchestration, maximum stomp and fresh intent. It's a little ache and a lot of party all wrapped up in a wrecking ball.
The Sh-Booms - Audible (Official Video)
The Sh-Booms - Leon The Hustler (Official Video)
Charles Irwin
Today we'd like to introduce you to Charles Irwin.
Charles Irwin is a band from Tampa, FL consisting of four members: Micah, Salad, Matt, and Ban. Some of us have known each other for practically our whole lives. Micah and Matt met in middle school. Salad and Ban have had close family ties their whole lives. The four of us were brought together through similar interest like skateboarding and eventually music. We formed the band in early 2017 though some of us had been playing music together long before that. The first time we all got together to play was in Salad's garage in the spring of 2017. We immediately realized the chemistry we had together. Since then, we have been working hard, playing as many shows as we can, and having fun while we also work on releasing our first album.
Can you give our readers some background on your art?
We create and record music. Our music tends to be about emotional outcomes of personal experiences and also our personal desires. We do it mainly because it's fun and because we feel it's essential. The music we make should make you feel stuff and it should make you want to dance and go make music yourself.
Artists rarely, if ever pursue art for the money. Nonetheless, we all have bills and responsibilities and many aspiring artists are discouraged from pursuing art due to financial reasons. Any advice or thoughts you'd like to share with prospective artists?
All we can say is just try to get organized and maintain a good work ethic. find supporting sources of income while you need to. just work hard and smart.
What's the best way for someone to check out your work and provide support?
You can find our music on all streaming platforms and you can follow @notcharlesirwin on Instagram for updates on our upcoming projects and shows.

//courtesy of Voyage MIA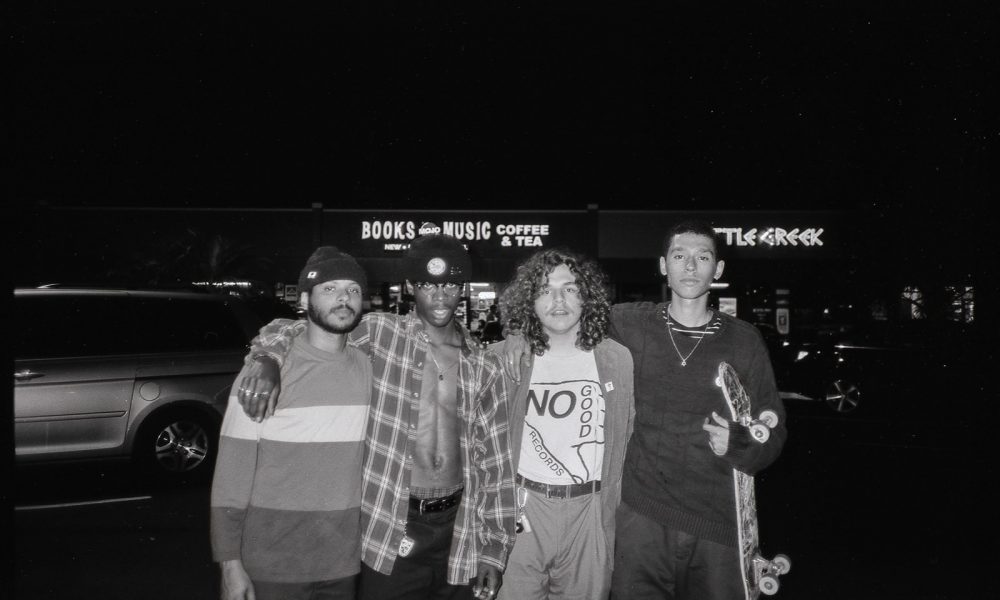 charles irwin - a sad song about a girl i no longer know
charles irwin - made for me
Frankie and The Witch Fingers
Over the course of five years and five LP's, L.A. veterans, Frankie and the Witch Fingers, have been mutating and perfecting their high-powered rock n' roll sound. After savagely touring the USA and Europe, this four-headed beast has shown no signs of relenting—appearing like summoned daemons and dosing crowds with cerebral party fuel.
The main attraction of Frankie and the Witch Fingers is their explosive performance. With their rowdy and visceral approach to live shows, each member brings their own devilry to induce an experience of bacchanal proportions.
Using absurd lyrical imagery—soaked in hallucination, paranoia, and lust—the band's M.O. strikes into dark yet playful territory. This sense of radical duality is astir at every turn, in every time signature change. Airy vocal harmonies over heavily-serrated riffs. Low-key shamanic roots under vivid high-strangeness. Rambling stretches and punctuated licks. Cutting heads and kissing lips. All this revealing a stereophonic schizophrenia that has flowed throughout their body of work: an ebb & flow of flowery-poppy horror.
The band's latest incarnation is primed to break new sonic ground, edging into the funky and preternatural. Just when you think the trip couldn't get any weirder, Frankie and the Witch Fingers cranks up the dial, shatters the mundane, and summons new visions.
Frankie and the Witch Fingers - Work (Official Video)
Frankie and the Witch Fingers - Pleasure (Official Video)